HIGH END TECHNO AND MANAGERIAL ENHANCEMENT TRAINING ON BEAUTY PARLOUR MANAGEMNT (NATIONAL BATCH)
RUDSET Institutes are known for their Innovation and creative thinking all through and in introducing quality training programmes to suit the latest trends in the market. Dr D Veerendra Heggadeji, President of RUDSETIs has instructed Executive Director, RUDSETI, Central Secretariat to come out with a training programme for 4 days to help and enhance the capabilities of successful trainees by providing a high end skill training coupled with enhanced managerial capabilities. The aim and objective of the programme is to make "A Tailor to a Fashion Designer", "A Barber to a Hair Designer" and so on i.e. enabling successful trainees from the present position of being a worker in his/her unit to go on to become capable of owning and managing the units.
Accordingly ED, RUDSETI, CS in consultation with the GM's of Sponsor Banks developed a 4 days course module called as "High End-Techno & Managerial Enhancement Training Programme"
The course module was placed before Poojya Heggadeji for final approval. Heggadeji has suggested some more changes and accordingly a course module on pilot basis was developed on Beauty Parlour management and the same was approved by the President. It was further opined by the President that first such programme can be held at RUDSETI Ujire. It was further decided to have a national batch to benefit our successful trainees from across the country.
On receiving the instruction from the President through RUDSETI, CS, RUDSETI, Ujire for the first time on earlier occasion organized a 4 days "High End-Techno & Managerial Enhancement Training Programme on Beauty Parlour Management" during 2018-19. The success of the programme and the feedback from the participants encouraged to conduct many more such workshops. It is a co incident that   recently Sri Shivarama K Bhandary, Shiva's Trends, Mumbai a well-known Bollywood Celebrity Hairstylist met Dr D Veerendra Heggadeji to seek his divine blessings. He was here to get released his Auto Biography. Going through his journey of success in the book, Heggadeji suggested ED, RUDSETI to contact him and explore the possibility for having a 4 days High-End Techno Skill Upgradation batch at RUDSETI, Ujire. When contacted by ED RUDSETI, Mr Shiva happily agreed to conduct workshop at RUDSETI Ujire.
RUDSETI, Ujire in association with Central Secretariat conducted a High End Techno and Managerial Enhancement Training Programme on Beauty Parlour Management from 26th to 29th February 2020.Smt Lynette S L Pinto, AGM, Canara Bank, CO, Managluru inaugurated the programme. Inaugurating the programme, Smt Lynette S L Pinto said that RUDSETI is providing skill upgradation training programmes for the trainees who were already established & urged the participants to make good use of the programme. The Divine presence of Dr Heggadeji and his blessings itself is of great boon to all she remarked.       
Sri M Janardhan, Executive Director of RUDSETIs handled session on Positive Thinking and stressed the participants to become broad minded to generate great ideas which will help in achieving something great in their life.
Sri Srinivas P, Lecturer, Department of PG Studies in Mass Communication and Journalism Alwas College, Moodabidri has thrown light on how best one can use the upgraded technology in marketing their skills. Social media Apps like Whatsapp Business, Facebook, Instagram, TikTok, mobile apps and other online marketing sites were demonstrated with hands on practice, which helped the trainees to become aware of various mobile application and marketing channels which the participants felt will help them in marketing their service better.
Sri Uday Birje, Co-Founder & Director, ThinkStreet Technologies, Bengaluru threw light on MSME activities and the advantages of Government schemes to financially support such activities through banks.
Sri A Suryanarayanan, Chartered Accountant, Advisor to Govt of Karnataka and IIM Bengaluru handled session on GST and Taxation. He dealt in detail about GST, GST registration, Taxation, applicable income tax slabs, calculation of income tax, exemptions under Income Tax, etc.
Smt Anasooya and Sri Abraham James, Senior Faculty members, RUDSETI, Ujire administered Ice Breaking session to make the participants more familiar in the group, as they represent different States. Many group activities were administered and the participants actively participated in the activities. The entire session was more of interactive and entertaining with some learnings, so as to make them feel comfortable and to create a good learning ambience.
Smt Vijaya Nagesh Kandala, Therapeutic Yoga & Wellness Professional, Specialist in Lifestyle disorder Management, Pregnancy Yoga, Counselling and Diet, Ananthapuramu handled session on Women wellness, Therapeutic yoga and remedies to lifestyle disorders. She dealt with importance of doing Yogasanas and breathing techniques in a proper manner, Mudras and Pranayamas and their effectiveness in keeping away from illness and medicines. She gave many health tips based on each and every participant's queries and remedies to their personal health issues. 
Smt Aparna Pathak, Life Transformation Coach and Founder of Celebrating Life, Bengaluru handled session on    Growth Plan – Personal & Professional. She stressed the participants to have introspection among them and find out their strength which will help in keeping going even in downtime. Developing mindset in tune with the goal helps in preventing from distractions. The goal should be SMART to have desired results. The entire session covered with group activities to make them aware of their goals and way to visualize & admit process.
Sri Shivarama K Bhandary, MD & Chairman, Shiva's Trends, Mumbai and his team members handled sessions on advanced techniques on celebrity hair styles, hair colouring and Make up.
They covered Bridal make up, Reception make up, Hair crazy colouring, latest haircuts, Cysteine treatment, hair styles, latest cosmetics companies, Siva's products, etc. Trainees actively participated in the class and their doubts were cleared in the session.
The valedictory programme was held on 28th February 2019. Param Poojya Dr D Veerendra Heggade, President of RUDSETIs was kind enough to spare his valuable time and showered his blessings to the trainees and also advised the participants that, their presence should be felt in such a way that others respect them.
The trainees were blessed to receive their course completion certificate from the President and their happiness knew no bounds. Before addressing the participants the President honored Sri Shivarama Bhandary. Smt Vijaya Nagesh Kandala, resource person, Smt Aparna Pathak, resource person were present during the programme and were felicitated by the President. Smt Shwetha R Bhandary, Ms Malisa D'Costa, Smt Jagruthi Bhandary, Smt Smitha S Bhandary, Mr Sudheer Bhandary, Mr Mohammad Elyas, Mr Rons Bantwal and Mr Divakar team members of Shiva's Trends, Mumbai were honoured by the President. As token of respect, representatives from the participants honoured President during the programme.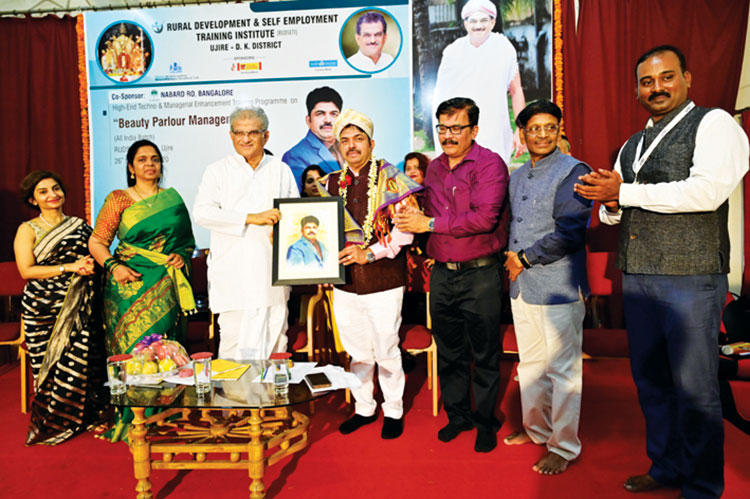 More than the skill, trainees were highly motivated hearing the real life story, the struggles faced by Sri Shivarama K Bhandary in his early child hood days. The trainees expressed that they were fully charged and were soaked in the Blessings of Pujya Heggadeji and with his divine presence. 54 participants from various Institutes from 11 States participated and were benefitted from the programme. As explained by the trainees in their feedback, training inputs helped them in enhancing their capabilities to double their income.